Here is the email I sent out to the lists giving a report about our efforts and showing at the Kaveri Trail Marathons.
Here are
photos from Santosh's camera
Hi All,
This weekend many folks from Team Asha completed their target race and finished the Kaveri Trail Half marathon and full marathon! More than 20 runners were at Srirangapattinam fighting out the hot and humid conditions. This surely was not an ideal day for running. But, our team did great even against such odds! I have had the privilege of observing all our runners train and reach many of their goals. So, I guess its my responsibility to give a brief account, which in my language is a long email :) - So, here goes!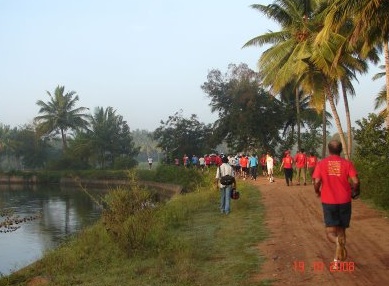 Anita
She has been silently working for the program behind the scenes. Her hard work and time commitment in the last couple of years has setup this program that we are all part of now! She is one of the few girls from Team Asha who have done ultra marathons (i.e. Team Asha across the world!). This was a training run for the upcoming ultra and she did great on Sunday for her 21km.
Asha
I can't imagine a better suited name for a team member :) - Asha completed her first half marathon in one of the most trying conditions on Sunday. All through the training and the race she was smiling and cheerful. She has had consistent problems with blisters and bad shoes. But, she didn't let that stop her from finishing the run on Sunday. Her effort is awe inspiring and I am sure she will go for more from here on!
Divya
Even with major developments in her life :), she has been consistent and committed in training. She showed up for almost every workout until she had to take some time off. But, she did not lose heart and switched to the half marathon. Her first half marathon effort is admirable and I am sure she is well within reach of her goal of a marathon! What is even more amazing is that, she has kept her commitment to the team on the fund raising front and has already surpassed her fund raising goals!!
Manohar
For every workout early in the mornings on Saturdays and Sundays, he would come all the way from Yeshwantpura in BMTC buses. This just shows how dedicated and committed he was to the cause. I have never heard him complain about anything at all and he really made it look effortless! Congratulations to Manohar for an amazing first half marathon and wishing him a lot more marathons!
For every workout early in the mornings on Saturdays and Sundays, he would come all the way from Yeshwantpura in BMTC buses. This just shows how dedicated and committed he was to the cause. I have never heard him complain about anything at all and he really made it look effortless! Congratulations to Manohar for an amazing first half marathon and wishing him a lot more marathons!
Megha
A veteran Team Asha runner, she made it all look easy and was the energizer in the team. Whenever she turned up for workouts, all the pain and struggles seemed to be replaced by smiles all around. For the most part she trained on her own and had a fun run on Sunday. Her target is the Bangalore Ultra and looks like she is all set for the 26K already!
Nitin Gupta
Not many folks have met Nitin, who joined the team a few months back. He has been running consistently though with the RFL folks. He completed a half marathon yesterday and I guess he finished too fast for us to catch him after the run :) - I am sure he will be successful in his goals of doing the Bangalore ultra and Mumbai marathon!
Padmanabhan
He is the senior most member of the team, but he really is young at heart! Even after all the trouble I gave him, like asking him to come for a run right after a tiring train journey etc. he never complained and kept high spirits through out! His effort was very inspiring not just for Team Asha runners but, for others on the course as well! He patiently listened to all those who discouraged him to not get into this at such an age and still completed in style on Sunday!
Pratibha
Pratibha is one more of the consistent and dedicated runners that make Team Asha. The way she has been going through the training routines and the races, one would never guess that this is her first marathon or ultra! She is already a seasoned runner and even with busy travel and work schedules she gets all the running in! Her enthusiasm and lively nature surely spreads around at all our runs! All through the run on Sunday, she gave company to many friends on the course and did a great first marathon herself!
Sai
I never thought I would actually get him to listen to me :) But, he was amazing. The first time we discussed this, he was even worried about just walking this distance. But, on Sunday he did a great time for his first half marathon. Somewhere along the way, he dropped the plan of walking and started to run! He brought life to all our running trips with his smart comments and silent provocation :)
Sanjeev
A Team Asha veteran and one of the brains behind the Team Asha program in Bangalore, he has always come out successful against all odds. Food poisoning, old injuries, humid weather conditions etc. would have typically meant a struggle for most folks, but here was Sanjeev with his fastest half marathon! On any other day I am sure he would have done even better! After a hard race he waited for almost every runner at the finish line to cheer them across the finish line!
Santosh
The name itself commands respect and admiration :) - Seriously, he has been one of the most committed in the program. His replies are prompt and he showed up for almost every workout. He has vastly improved even in the short time he has been with us and is well on course for his first half marathon at Auroville on February 15. Sujata and he have been our 'official' photographers and have given us some great memories! He had a fabulous 10K run on Sunday!
Saroja
She has been my inspiration for years now. Behind all the fun and frolic is a very serious and committed effort. She even sprinted at the end to finish her first half marathon! Wherever she has been - all running courses from Austin to mysore, she has inspired folks and fellow runners. There is a lot to be learnt from her patient and consistent effort through this program! She has made everyone beleive that you can get to a goal if you set your mind to it.
Senthil
He was actually on course for a stupendous effort on Sunday! By the half way point he was coming in as 5th in the marathon course. If not for the bad cramps, I am sure he was in with a great chance for a top three finish! Nevertheless, he did an amazing time for his first marathon! Senthil is from the village of Sittlingi and is one of the kids from Thulir, an Asha supported effort. All through, he has been training on his own with almost no run support! As it can be seen, he is a natural at this and at this young age he has amazing potential! His effort has really been inspiring and his passion for running is simply awesome. I really hope we can keep this passion burning for a long time!
Siva Athreya
We all affectionately know him as 'Prof' or 'The fast one' :) - He keeps the team entertained thoroughly whenever he is around, though at times it has been at my cost :) . He had a bad cold to start with and felt he wouldn't be able to finish this one! But, he showed amazing resilience and while folks dropped out as they withered under the sun, Siva endured through the race and finished with a really great performance and as we all expected him to, he got the fastest time for the marathon as well :)
Siva Ramasubbu
Life wouldn't be the same without Siva around :) - He truly is the life of the party! Be it lost key chains, beer hunting, interesting arguments or wild GPS measurements, he made sure we were entertained. Behind all the sporting smiles, patient and sometimes timely rejoinders, is an amazing effort. Siva ran for more than eight hours on Sunday in the most humid conditions for his first marathon. I am sure none of the bunnies (the fast runners :) ..) have any clue to what this means. It really takes true grit to endure through something like this! You inspire all of us Siva!
Sridhar Desikan
One more of the behind the scenes man of Team Asha! His silent and dedicated effort is amazing in the middle of a hectic work schedule! He came in at 1:30 AM and slept for 3-4 hours only before the run on Sunday! He has been going through a bad injury phase with his ITB and rightly judged to take it easy at KTM. He did 21K at KTM and I am surely he will bounce back from his injury in time for his first ultra marathon next month!
Sridhar Srinivasan
Sridhar has a hectic work schedule that involves a lot of travel. Its really amazing how he gets time out of his daily routine for a run almost every day! For the most part he has been training alone and not a lot of us have met him yet. On sunday, he had one of those bad days and stopped after 21Kms. I am sure he will have a great time at the Ultra and this is only a training run. We missed him at the end of the run and hopefully we will get to meet him soon!
Sriram Srinivasan
Our Team Asha Old Airport run co-ordinator made 'sure' everyone finished :) - His busy work and life schedule not withstanding, sriram made sure he completed his goal of the half marathon at KTM. He was part of the team that conspired to get medals for everyone ;) - He makes it so easy that I am afraid people would stop training for races! We look forward to Sriram's run at the Bangalore ultra!
Thushar
Thushar is a testimony to the grit and determination involved in marathon running. He has an ITB problem that has been troubling him for more than a year now. It started showing up even before the longest training run we had this year. But, he told me "I have learnt to live with it"! On Sunday, he had a late start, bad weather, the ITB problem and many other battles to be fought. He weathered through all of these for an amazing marathon, that I am sure we would all remember for his effort!
Vinodh
The self acclaimed superstar of the program, who never forgets to pose when there is a camera around :) - His consistency in training and the runs showed in his first half marathon performance! Under such torrid weather conditions, he still endured for an admirable effort on Sunday! His involvement and eagerness to know more about the efforts we support is really amazing and inspiring!
A special thanks to Sujata, Vinoo, Shashidar and Sreesh who traveled all the way to Mysore to support Team Asha on the course! It was also amazing to see other friends - Anand Rao, Meghana, Shantanu on the course, cheering us and inspriring us on our runs! They all put up an amazing performance as well!
Thanks to Apu, Shiv and Puttasamy for their patient and skilful driving to take us around on our training runs and the race!
A big heartfelt thanks to Arvind(A2) and RFL for being different from other race organizers, especially when it comes to waiting till the end for all our runners. This was truly amazing and appreciated greatly!
Thanks to Dr. Rajat and B2F for sposoring our amazing red Team Asha T-shirts!! Thanks to doc for also providing us free consultation on shoes. We are really lucky to have a knowledgeable doc and a super runner who helps us out!
Thanks to Anu, Krishna, kids and folks at Thulir, Sittlingi for hosting us for the training run and making it a memorable experience! That training really meant a lot for us as we endured through the hot weather in KTM.
Thanks to all Asha volunteers, friends and family for giving the support and encouragement that we all badly needed! This has been a wonderful experience!
While many of us have crossed the finish line in terms of our running goals, there still is one more finish line to cross. All this effort, running and crossing the finish line would be worth a lot only when we achieve the goals we all set out for! Asha Bangalore relies heavily on the marathon program for supporting all the wonderful grass roots efforts. Lets gear ourselves up and make sure that this running makes a difference in many other lives as well!!
Go Team Asha!!
Thanks,
Santhosh.
P.S: If I missed mentioning anyone's contribution, I surely didn't intend to and would want to blame it on the fatigue from running and typing a long email :)