Now since the Karate classes have gone serious, its time to share some of our efforts.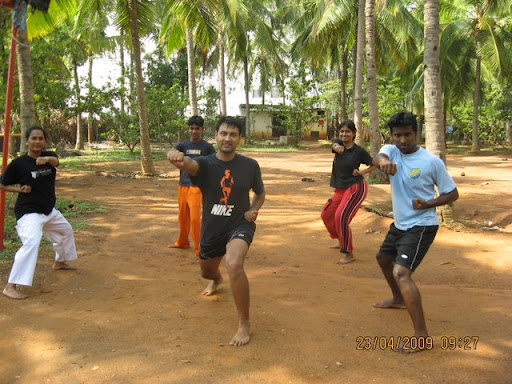 Thanks to Sensei Manjula (
Sensei Ni Rei
: bow to the Sensei)for her time with Team Asha volunteers and Ananya kids, this thing has now become a regular affair. Once the kids are back in full strength this will become all the more meaningful.
We all are now going to increase the intensity and train for our yellow belt exam some time by end of next month. We are going to increase endurance activity as well.
Karate is being used to convey to the kids that it is essentially a form of defense and some of the moves (especially in
kata
) requires one to remember/memorize and concentrate hard to understand and follow a regimen. This will also help the kids in improving their concentration and and help them stay focused. The focus of
Sensei
is to teach us all a mix of
Sports karate
and
Street karate
.
This has been a truly great start and we wish to continue this further and expect more kids at Ananya will benefit from it.
All our Saturday runs end with a feast from Shivamma's kitchen. The breakfast there in that setting is just perfect. Thanks to Shivamma for all her effort and perseverance to feed us all!
Thanks to Vinodh, our bard, who is helping out kids with Word Processing for their exams.
Go Team Asha Go !
Aregato !
Keep running !
More Pics at:
http://picasaweb.google.com/balsubu/AnanyaKarate#